Cruise Operations Suspended
Due to the global outbreak of COVID-19, travel restrictions imposed by the States of Guernsey from 0001UTC 19 Mar 20 require all persons arriving in the Bailiwick from anywhere else in the world to self-isolate for 14 days on arrival. These restrictions mean that all cruise ship calls are currently cancelled until 30 Apr 20 at the earliest. Please note that some cruise operators have suspended operations past 30 Apr 20.
Cruise into Guernsey
St Peter Port, Guernsey's capital and one of the most picturesque seaports in Europe, is a stunning location for cruise line calls.  With quality port services, professional handling arrangements and a warm meet and greet Guernsey has earnt its enviable reputation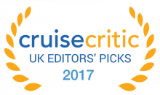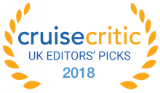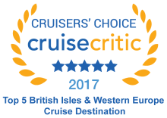 Guernsey hosts over 100,000 passengers from liners every year and sees cruising as a great way to encourage longer stays to the Island for repeat visits.
Dedicated cruise pontoon 600 metres from the town centre
Short tender transfer 5-10 minutes
Beautiful panoramic views
Disability awareness team
Sister Islands of Herm and Sark available for day trip
Free WiFi
New for this year, the whole Meet and Greet Team have undergone specific dementia training. In 2019, Guernsey created a disability awareness team to assist visiting cruise passengers who all had Hidden Disability Training. Enhancing the existing welcome teams to support anyone in need of a rest on a hot day or requiring additional assistance before boarding the return tenders.
Itineraries
Guernsey offers a wealth of excursion possibilities for your cruise passengers, history buffs will embrace the wartime time tour and those looking to get closer to nature will love the flora and fauna of our South Coast Cliffs.
Walking tours of St Peter Port are a popular choice both self-guided or with an accredited guide who can inspire your passengers with stories of how our historic town used to be. Guernsey is keen to impress cruise passengers and the on island event organisers aim to coincide local events with cruise liner visits so there is plenty for your passengers to discover.
See example itineraries below!
Port Statistics
Harbour opening times
24 hours
Min/Max ship stay
No limitation
Town centre distance
600m
Port Statistics