Safe, Clean and Legal Assessment and Accreditation Scheme
There are three elements that can help your business on the road to recovery during an incredibly challenging time. These are:
Safe, Clean and Legal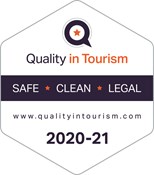 These are vital attributes that will give confidence to potential visitors to the island, as and when Covid-19 travel restrictions are lifted to allow leisure travel opportunities to open up. We are here to help you get this essential information across to your customers, in a sustainable and straightforward way.
Our contracted partners, Quality in Tourism (QIT), have developed a robust and versatile risk assessment and accreditation scheme incorporating approved cleaning and management processes that will allow you to demonstrate your commitment to guest safety, whilst minimising risk of infection going forward.
The scheme's risk assessment criteria will reflect Guernsey's Public Health guidance, but the scheme will also share and include discretionary 'best practice' COVID-19 safe and secure processes from across the wider industry and across the portfolio of countries in which QiT operates.
The Safe, Clean and Legal Risk Assessment & Accreditation Scheme offers an effective marketing tool, and many thousands of operators in the UK have already applied to take part. Find out more about the scheme.
Who can apply for the Accreditation?
Marketing & Tourism is pleased to offer access to this scheme during 2020 free of charge to all current visitor accommodation permit holders. If you already have a permit, the essential legal aspects of operating your premises are covered by your commitment to comply with all local statutory obligations, including the current Guernsey Public Health and States of Guernsey Guidance as published here. To qualify for the scheme locally you will simply need to demonstrate that your premises also meet the overall Clean criteria.
The scheme is not related to star ratings – it is intended instead to underpin the commitment to standards that is expected of any permit holder. From 2021, it will form part of the boarding permit statutory requirements.
How do you get an accreditation in Guernsey?
Download the relevant guidance, cleaning protocol and risk assessment below for the type of accommodation you operate, so you can start to work on your own risk assessment.
Register your interest with Quality in Tourism. The assessors working on this scheme for Quality in Tourism will probably be familiar to you, as it is the same team that carries out the annual grading programme here. If you have questions or need support, email the assessors so that they can email or telephone you to assist you.
When you are registered, an assessor will be available to assist you to work through the application process.
Quality in Tourism will provide you with a link to online covid 19 cleaning training, for you and your team once you have completed the registration process
When satisfied that an Award is merited, Quality in Tourism will advise us, and the award and appropriate badging etc. will be confirmed and provided by Marketing & Tourism, and added to your VisitGuernsey web entry in the same way as any of our other accreditations or Quality Awards.
A check visit to the premises will be made as soon as travel restrictions allow.
We hope this will be a valuable and helpful addition to your resources as Guernsey tourism works to revive and thrive.
Downloads
Download the relevant guidance, cleaning protocol and risk assessment for the type of accommodation you operate, so you can start to work on your own risk assessment.