2023 Cruise ship schedule
Update from VisitGuernsey on cruise
23 February 2023
Currently for 2023, there are 95 cruise ships scheduled to visit this year. It's important to note that this is a first draft of this season's schedule and is subject to change with more visits added. The cruise industry remains a very important part of our tourism market and the 2023 schedule, as it currently stands, is promising.
It is particularly encouraging to see that 12 of the 95 cruise ships scheduled to visit this year will be first-time visits. We are also expecting to see cruises operating at full capacity this year, after having sailed with reduced passenger numbers in recent years as part of their Covid mitigations.
A total of 86 cruise ships' visited the Bailiwick of Guernsey in 2022; 130 were scheduled to visit but 44 cancelled for a variety of reasons ranging from weather to staff sickness.
The number of cruise ship visits tends to vary year to year as the industry is a very competitive market with more ports becoming available with the passage of time. However, the Bailiwick continues to have a very strong offering for the cruise market, as evidenced by the Bailiwick being named as the "Best UK & British Isles Port of Call" at the prestigious annual Cruise Critic industry awards last year. We continue to see far more passengers coming ashore in the Bailiwick than the industry average. Last year 88% of passengers chose to come ashore which is much high than the industry average of 60-70%.
The most up to date version of the 2023 schedule can be viewed here:
 2023 Cruise Ship Schedule - Guernsey Harbours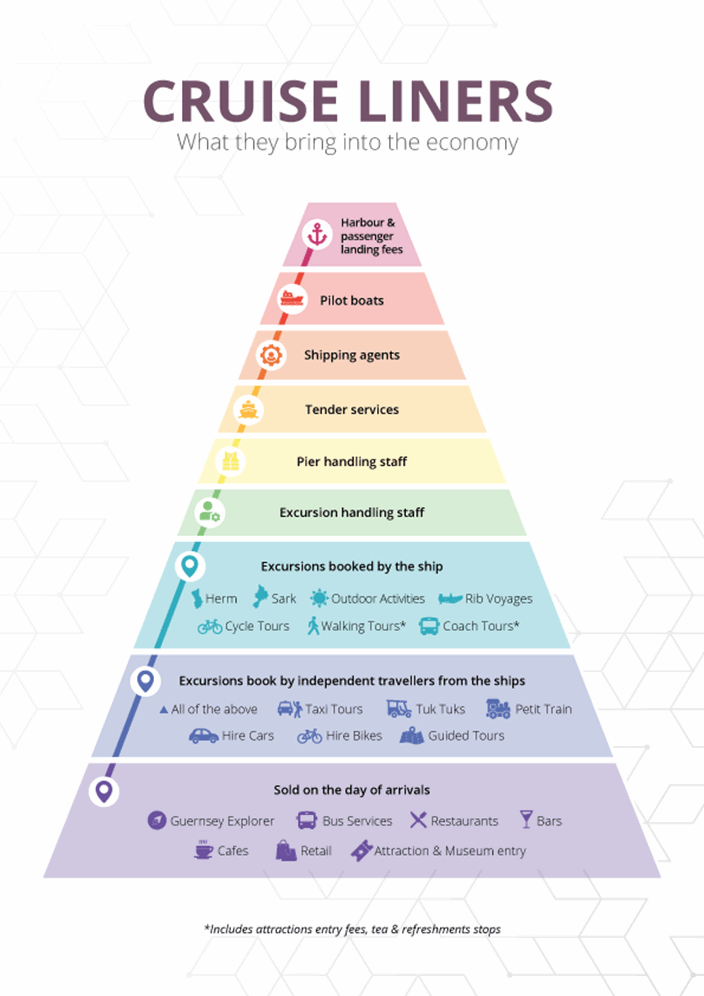 Want to learn more about cruise? Read more here: Cruise | Guernsey Trade Media
You may also like: