Blue Plaque Unveiling for William Le Lacheur
A blue plaque commemorating William Le Lacheur will be unveiled today Tuesday 6th September at 2pm.
06 September 2022
The short ceremony will take place at L'Epinel Farm, Rue de L'Epinel, Forest; the former home of the Le Lacheur family.
The Plaque will be unveiled by the Costa Rican Ambassador to the United Kingdom, His Excellency Mr Rafael Ortiz Fábrega, and the Bailiff, Mr Richard McMahon.
The Bailiff, Chair of the Blue Plaque Panel, said:
"I am honoured to be invited to unveil the blue plaque to William Le Lacheur with His Excellency the Costa Rican Ambassador to the United Kingdom. While little known in Guernsey, William Le Lacheur played a vital part in helping the newly independent Costa Rica establish itself. He is held in high esteem there where he became a national hero and is credited with transforming that country from being the poorest in Central America to the wealthiest, in less than a quarter of a century, by shipping coffee direct to London and using the profits to improve coffee production. William Le Lacheur's ships have featured on Costa Rican bank notes and postage stamps during the 19th and 20th centuries. I hope that this plaque helps to make Captain Le Lacheur as well-known on his home island as he is in Costa Rica.
"We are delighted that His Excellency Mr Rafael Ortiz Fábrega has been able to visit Guernsey again for this occasion and to strengthen the new links between our two communities. It is also a pleasure to be able to unveil a new plaque to a deserving Guernseyman after a two-year hiatus."
The plaque has been kindly sponsored by the Forest parish.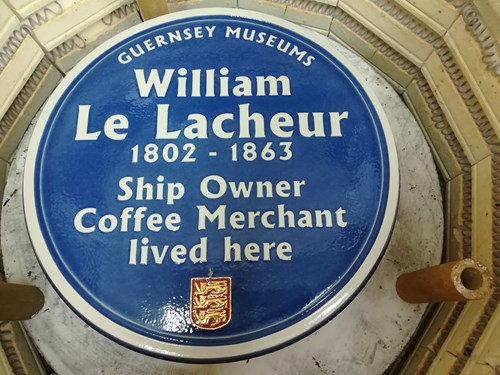 The Guernsey Blue Plaque scheme recognises Guernsey people who have made an important contribution to the Bailiwick and the wider world. The Scheme aims to enhance the awareness of islanders and visitors about these special people and where they lived or worked.

Read more about William Le Lacheur here: William Le Lacheur - The Story of A Guernseyman and Global Coffee Trade | Visit Guernsey
You may also like: