New bus app launches
CT Plus and the parent company Towertransit are pleased to launch a new app for smart phones.
13 June 2023
Tower Transit set out their wish last year that Guernsey should have a dedicated bus app with the same look and function as used in larger regions and cities.
The new app makes journey planning even easier, using timetable and live bus information along with map and user location services.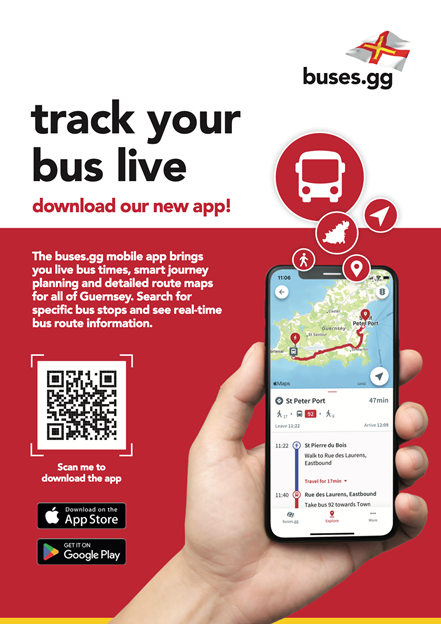 Innovations and features of the new app include;
Journey planning
Live bus positions
Bus stop information
Bus Loading information
User saved bus stops
School bus routes and buses
Links to diversion information
Operations Manager for CT Plus Kevin Jackman says:
'It's great to see that the buses on the live map now also show their direction of travel. Also, the ability to simply position your current location will also be a bonus to those visiting the island or exploring areas of Guernsey they may not be familiar with.'
Director for CT Plus Kevin Hart says:
'User saved stops make this app so easy to use, you can even rename these saved stops which is great for journey planning, saving locations such as MY SCHOOL, FOOTBALL PRACTICE, or DOCTOR.
The app will also have the list of daily roadworks affecting buses, with a link to more detailed information about any diversions.'
Deputy Lindsay de Sausmarez, President of the Committee for the Environment & Infrastructure, said:
'We've been keen to encourage anything that makes bus use easier, more convenient and more accessible, and this new app will do all of those things. Travelling by bus can be a great way of getting around and it's also a great way to reduce our carbon emissions, given that transport generates more greenhouse gases than any other source in the island.
"With the new app now launched, being able to track live bus locations and plan your route will make this a more viable travel option for more islanders and visitors alike. I'm sure this will also be a great help to those who are already regular bus users, giving better, reliable and more up to date information about bus times.'
The new bus app will replace the mobile version of the website currently being used.
The website buses.gg will continue to operate and this will continue to give the detailed roadworks diversion information affecting bus routes.
The app can be found at the App Store or at Google Play. The app is called buses.gg
You may also like: