Premier Inn announces the winners of its Kids' Guide to Guernsey search
Media release from Premier Inn
04 October 2022
The Kids Have Spoken – top spots chosen by children for the Premier Inn Kids' Guide to Guernsey
Following its first successful summer on the island, Premier Inn is pleased to announce the winners of its search for the top spots for families and kids on the island that will be used to create its 'Premier Inn Kids' Guide to Guernsey'.
 Following a competition run earlier this year in conjunction with Island FM, Premier Inn received dozens of suggestions from children eager to be chosen as one of ten winners included in the guide. Suggestions included exploring the beaches at Vazon and Cobo, crabbing at Portlet, to playing hide and seek in the castles and battlements at Vale, Lancresse and Clarence Battery - a real range of ideas to suit all ages and budgets.
Winners aged between five and 14 were picked from all the eligible entries received and judges from Island FM, Visit Guernsey and Premier Inn had the tough task of whittling the entries down to just the ten winning entries.
Following its opening in Spring earlier this year, the Premier Inn has had a busy summer and the team have been hard at work putting all their newly acquired skills to the test, making beds, serving up breakfasts and welcoming over 17,000 guests through the doors for the first time. With guests coming from Channel Islands and from across the UK, the hotel is sure-fire hit with locals and Premier Inn fans from near and far – bringing new people to the island to experience everything Guernsey has to offer.
Premier Inn Hotel Manager, Jonathan Haines commented, "We were really impressed by all the amazing suggestions sent in for our Kids' Guide competition, the range of ideas that made our final list will definitely give families plenty of options when they come to stay - we hope even regular visitors should find something new to try. The Premier Inn Kids' Guide to Guernsey will be an excellent tool for our team and provide the perfect Inn-spiration for families planning trips and what makes it even more special is that all the places have been hand-picked by the people who know it best – Guernsey's children!"
Mark Trenchard, General Manager at Island FM says of the partnership, "Working with Premier Inn to launch their search for suggestions for their Kids' Guide to Guernsey has been great fun. To see some of the places that I loved as a child and even some gems I had forgotten make it onto the list was great. The Guide will be a fabulous addition to Premier Inn's website, and we were really pleased to have been a part of its creation."
Director of Communications at The States of Guernsey, Mary Putra said: "Seeing all the brilliant suggestions reminds us of all the amazing things there are to do here in the Islands of Guernsey, for people of all ages. We've been really pleased to welcome Premier Inn to Guernsey this year and are thrilled to see the success they have had in what has been a very busy first season. We really enjoyed working with the team on the Kids' Guide, which we are looking forward to seeing, it will also be a great asset for VisitGuernsey to use to promote the Islands to a family market."
One of the winners, Kyan, 9 said of his suggestion, "Guernsey is a very special place to live, as it is small and beautiful. There are lots of things for children of all ages to do whilst visiting the island. My favourite place to visit in Guernsey is the Vale Castle, I enjoy going to the castle as I can play hide and seek, as there are lots of tunnels, walls and rooms to hide in. It has a large grass area in the middle so you can have a picnic or play games. The castle has views of the sea, you can also see the other islands. I always have lots of fun at Vale Castle."
As well as winning a family stay in a Premier Inn, the suggestions from the winners will be used to create Premier Inn's first Kids' Guide. The Guide will be a selection of the best things to do and see on the island for kids and families, as chosen by children. The 'Kids' Guide to Guernsey' will be published nationally on premierinn.com in early 2023 in time for families planning their next Spring/ Summer getaways.
The digital Premier Inn Kids' Guide to Guernsey will be online from early 2023.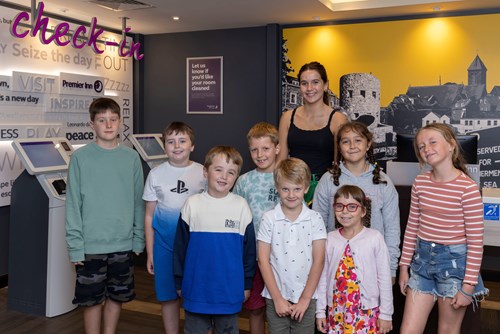 You may also like: