For 2023 we'll be running the following joint marketing campaigns and travel events.
Joint Marketing Campaigns
Aurigny
UK SkyAdsmart Campaign - 1 month in Birmingham and Manchester
UK Radio Campaign - 1 month in Bristol, Exeter, Birmingham, East Midlands and Leeds Bradford
Ireland SkyAdsmart Campaign - 1 month in Dublin
Ireland Radio Campaign - 1 month in Dublin
Ireland OOH Campaign - 1 month in Dublin
Regional autumn radio campaign (September-October)
Condor Ferries
TV Advertising 
Facebook & Instagram
Radio
Digital display
OOH and digital in Jersey- May and June
Condor has confirmed that its early forward bookings for 2023 are showing positive signs of returning to pre-pandemic levels for car passengers.  Read the press release here.
Condor Ferries activity: 
Condor Ferries From £85 TV ads - For a core audience and expansion audience during February and March targeting May and June
Crossings to Guernsey from just £85* each way with Condor Ferries | Visit Guernsey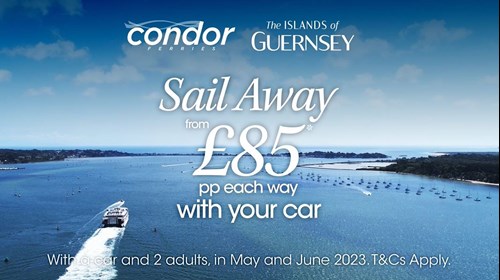 Sunair
Campaign to support the Rotterdam and Groningen route including:
Direct Mailing
Attendance at Vakantiebeurs
Consumer presentations at airports
Social media
Reader offers and magazine advertising
Outdoor Billboards
Sunair activity:
Kanaaleilanden advert
Sunair mailer
The Sunair team at Vakantibeurs
Manche Iles Express
Social media quiz joint with Cotentin tourism and Duke of Normandie Hotel to win an overnight stay in Guernsey.
GuernseyTravel 
Print advertising
Digital campaigns
Social media activities
Guernsey Travel activity:
Dual Brand Ad
Premier Holidays
Joint campaign from January – September including consumer & trade 
Merchandising campaigns
Tactical campaigns
Printed mailings
Social media
Destination training
Familiarisation trips
Premier Holidays activity:
Dedicated eNewsletter
Pop-up banners
Posters
Blue Islands
June campaign in Southampton includes:
Facebook & Instagram promotion
Emailers
Working with Southampton Airport
Blue Islands activity: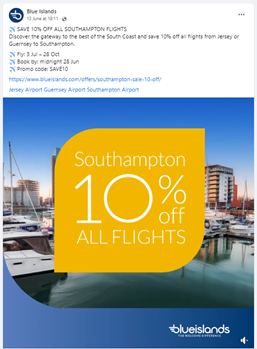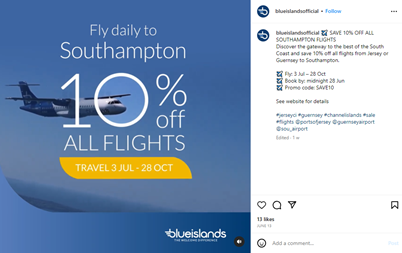 Travel Events
Channel Islands training with Premier Holidays
The Islands of Guernsey will be represented at the following training events and shows with Premier Holidays. All of these events are in strong catchment areas for the Channel Islands and are planned for this month to benefit the season.
Destination training is an important part of our joint trade marketing activities with Premier Holidays. These events provide a great opportunity to speak to agents directly and provide advice.
These are part of our ongoing joint collaboration with Premier Holidays
TTNG Business Forum, Newquay: 11th March
Training opportunities for Newells and The Travel Network Group via pre-scheduled meetings.
Newells Travel Holiday Show: 12th March.
This is client facing where Premier have a stand dedicated to the Channel Islands
Instore days – x2 Althams Travel and x3 Premier Travel – March/April
Channel Islands instore days with Althams and Premier Travel for clients including a "meet the expert" presentation.
Destination training Humberside - 15th March
Premier Travel, VisitGuernsey and agents, 30 minute Channel Island training for their teams includes presentations and networking.
Premier Travel Managers Meeting and Hays Travel Regional Meeting – 23rd March
Premier Travel and Hays Travel, 30 minute Channel Island training for their teams includes presentations and networking.
Millington Travel Team night – Apr/May – TBC
Training evening central to their branches

British Tourism & Travel Show
We are joining Destination Specialists, Condor Ferries and Morvan Hotels as a stand partner in Birmingham to attend the British Tourism & Travel Show. It brings together hotels, attractions and destinations wanting to meet and do business with key decision makers, responsible for planning holidays, trips and tours and breaks.
The show attracts 3,000 visitors and attendees include coach operators, tour operators, group travel organisers, travel agents, travel services and media.

Seatrade Cruise Global
The Islands of Guernsey will be represented at the largest and longest running cruise industry event in March 2023 at Seatrade Cruise Global. Four days of business and networking along with updates in the industry and business development opportunities.