Aug 2023 Trade Update
Latest trade update from the team
02 August 2023
VisitGuernsey App update
We are continually looking at ways that we can improve our marketing materials and, following industry feedback, we have launched an update to the VisitGuernsey App. The updated app has a new look and feel, but more importantly includes a new sea-swimming layer, plus improvements to the existing walking layer.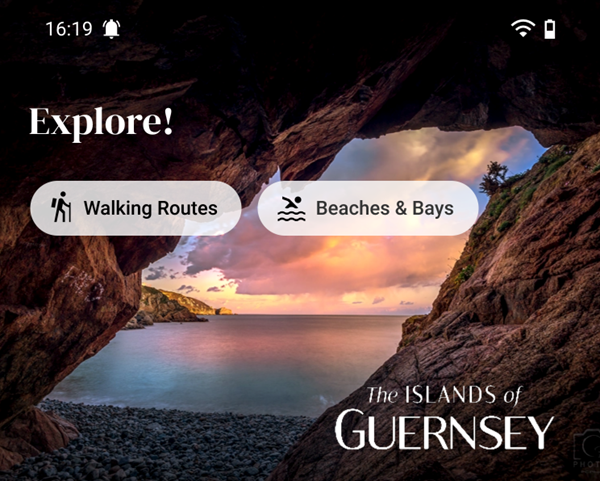 New features within the walking layer of the app include waypoints for businesses along or near each route, and clearer instructions with photos at points of directional uncertainty. Including all businesses along each route means they are clearly visible on the map and also feature in the Advertisements tab. The new sea-swimming layer pulls in live weather and tide updates, making it easier for users to pick their next swimming location by using this live data. Other features include swim difficulty, ease of access ratings, and available facilities, for example toilets and cafés.
We're currently coordinating PR for the update, to ensure it is picked up by both local and national media, and we'll also erect pop-up banners advertising the app at the Harbour and Airport arrivals. Visitors coming off the cruise ships and connecting to the harbour wifi will also be served an advert to download it.  You can also download a poster here to display at your business.  
We'll be holding a drop-in session on Friday 18th August from 2pm - 4pm at the Guernsey Information Centre for anyone to attend who may have questions about the app.  
The update is now live and is now available to download from the Apple Store (for iPhone) and Google Play (for android).

Autumn events for you to attend
VisitGuernsey Trade Workshop
Join us at the Guernsey Trade Workshop this October (11-13th). This event is for trade from across the UK and Europe to network with Guernsey tourism providers to build on existing business relationships and plan future partnerships.  Find out more and register your attendance here.
Tourism Management Board Seminar
The TMB would like to invite all local stakeholders to their seminar and networking session on 31st October in La Seigneurie at St Pierre Park Hotel. This is specifically for Guernsey based businesses to network and hear insights from the TMB.  Find out more here.

Extension of long stay permits
The Development & Planning Authority has agreed to extend the current 'Temporary Exemption from Requirement for Planning Permission for Certain Changes of Use of Visitor Accommodation'. The necessary regulations to make this change will now be prepared. The extension of 12 months will allow people to stay in visitor accommodation on a long stay basis subject to certain provisos until the end of December 2024. This is in order to support and alleviate the current pressures on key worker housing while both short- and longer-term strategic plans are being developed and implemented.

Cruising into St Peter Port
Cruise lines continue to advance their sustainability initiatives in the pursuit of net-zero carbon cruising by 2050.  We closely follow global trends as part of our cruise development and, like many others, the cruise industry is taking a proactive stance, making changes to reduce emissions and improve its sustainability, recognising the demand from customers for climate change mitigations. We continue to meet with key cruise stakeholders from both large and small companies to understand their future developments.
Recently, we have held virtual meetings with P&O, Carnival, Cunard, Celebrity, Ponant, Saga, Seabourn and Sea Dream to talk about their calls into Guernsey and plans going forward. Later in the year, we will also be supporting a visit from representatives from Excursions, who are looking to visit all the Islands of Guernsey and work on new tour ideas. Last month, we welcomed Ambassador's Ambition for the first time where we exchange plaques, you can read more about it here. 
We have also had a positive response from people expressing interest to attend a cruise familiarisation visit next year. If you are interested in working with us on cruise & journalist visits, let us know here
Renoir update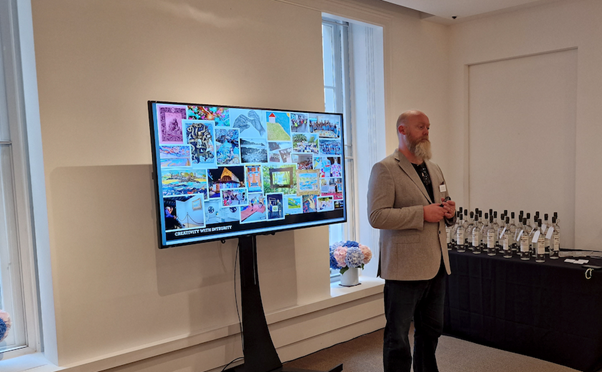 One of our primary PR focuses for 2023 is 'Renoir in Guernsey, 1883', an exclusive Renoir exhibition, which will open at Candie Museum on 30th September running until 17th December. This exhibition will encourage visitors to our Island during the shoulder months and will also highlight our unique heritage and culture, both key to our marketing strategy.   
To find out more about how we're capitalising on this fantastic opportunity, please click here.
We'd also like to remind you that tickets for the exhibition are now on sale here, and we ask that you encourage your guests and customers to attend what will be a fantastic opportunity to view these Renoir's masterpieces where they were originally painted.

Manche Iles Express report increase in passenger numbers from France.
Ferry operator Manche Iles Express have released figures for the first 6 months of 2023 and, when compared to the same period in 2022, there has been a 182% increase in passengers from the French port of Diélette on the Normandy coast.  
Following the introduction of the French day tripper trial scheme earlier this year, we have welcomed over 1,000 day trip passengers from France.  
Manches Iles Express have also reported a 235% increase in traffic on traffic from Jersey to Guernsey. 

Online Travel Training (OTT)
As a reminder VisitGuernsey and Aurigny Air Services offer travel agent training through OTT, the world's first global online and marketing platform. OTT have over 150,000 agents on their database which we send information to about the Islands of Guernsey and provide virtual training. We have benefited from solus emails to their database, and we have a webinar at the end of the month.
We are currently running a competition for any agents who complete our course as an incentive. Agents can win a 2-night stay to the islands of Guernsey. Thanks very much to Aurigny Air Services and Beaucette Marina for partnering with us offering the prize. You can access the course here.
Left luggage facilities available
There are now left luggage facilities at St Peter Port harbour.  Located at AB Marine, very near to the Isle of Sark Shipping office, this service is available Monday to Friday 8am - 5m and Saturday 9am - 5pm.  Sunday and out of hours by prior arrangement only by emailing jacqui.manning@abmarine.gg. The cost is £5 per bag, per day. 

Reach for the stars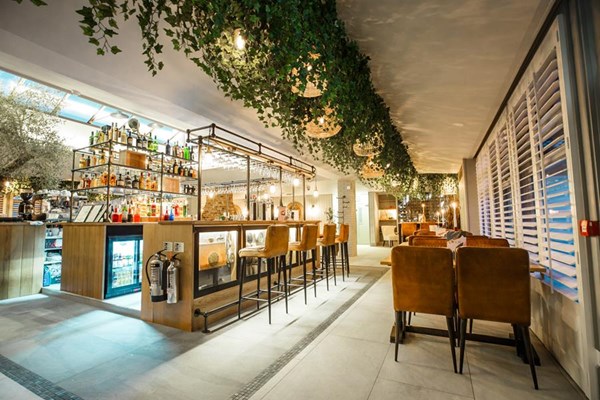 Congratulations to the Peninsula Hotel who achieved a 4-star rating following their Quality in Tourism assessment this year, going up from 3 stars. The hotel scored excellent standards in all areas.  It's also very encouraging to see a wide variety of accommodation score Gold and Silver Accolades along with "Great 4" awards.

German Occupation Museum tickets on sale at the Guernsey Information Centre 
A reminder for you and your staff - tickets for the Occupation Museum can now be purchased from the Information Centre, at £6 per adult and £3 per child. The Museum site itself is cash only, but VisitGuernsey have worked with Museum owner Richard Heaume to ensure that those who like to travel cashless can still enjoy the museum by buying tickets in advance.

Island Games
As we reflect on a fantastic week of sport across the Island, it is now time to harness the opportunity that it has presented. 
During the Games, Guernsey was at its best putting itself on the map to a new audience. As well as enhancing that experience for those visiting us for the Island Games, we are now turning our attention to how we can follow that up.
There are several ways we will be doing this. We can encourage those who were here to compete and support to return for a holiday or to compete in one of the unique sporting events that takes place through the year, as well as working with trade partners to make ourselves attractive to sports teams and group bookings.
We are meeting with the Island Games organisers and relevant parties in the coming weeks to maintain the momentum.
The Tourism Management Board are actively looking at the development of Sports Tourism as part of the Tourism Strategy.
You can now register for The Guernsey Trade Workshop taking place from Wednesday 11th – Friday 13th October.  More details will be sent to you later in July.  We look forward to seeing everyone at this great event.
As always, we are on hand to help and support in any way we can, so if there is anything that we can help with, please do get in touch.
With thanks, the VisitGuernsey team.
You may also like: