Travel training for the Islands of Guernsey
Did you know our teams host in-person and online destination travel training?
20 March 2023
We offer a range of free training materials for your teams to help familiarise them with Islands of Guernsey and what we have to offer.
Channel Islands training with Premier Holidays
This year, as part of our ongoing joint collaboration with Premier Holidays, The Islands of Guernsey have been represented at the following training events and shows. These events provide a great opportunity to speak to agents directly and provide advice. All of these events are in strong catchment areas for the Channel Islands:
Newells Travel Holiday Show: 12th March.
This is client facing where Premier have a stand dedicated to the Channel Islands
TTNG Business Forum, Newquay: 11th March
Training opportunities for Newells and The Travel Network Group via pre-scheduled meetings.
Instore days – x2 Althams Travel and x3 Premier Travel – March/April
Channel Islands instore days with Althams and Premier Travel for clients including a "meet the expert" presentation.
Premier Travel Managers Meeting and Hays Travel Regional Meeting – 23rd March
Premier Travel and Hays Travel Channel Island training for their teams includes presentations and networking, with over 50+ agents attending.
Last year, Josephine Ferguson, presented at three travel agent training events in Plymouth, Huddersfield and New Market with Premier Holidays, Red Carnation, Handpicked and VisitJersey. With 100+ travel agents from the Devon, West Yorkshire and Suffolk areas attending to learn more about the Channel Islands. Following these trips, Premier Holidays fed back to us that bookings increased following the educational trips.
Chloë Steadman, VisitGuernsey marketing manager said 'These trips are so important as they re-establish relations with the trade and build stronger connections with the agents. Stories and anecdotes from a real Guernsey ambassador always make it more memorable and authentic.'
Clare Crowson, partnership marketing manager at Premier Holidays said 'Destination training events are a fantastic way to educate travel agents on our products and provide them with the knowledge and confidence to sell.  Travel agents are selling the world and it's our job to make our destinations and products stand out! After an event, agents leave enthused and motivated to book and we often see a clear increase sales.'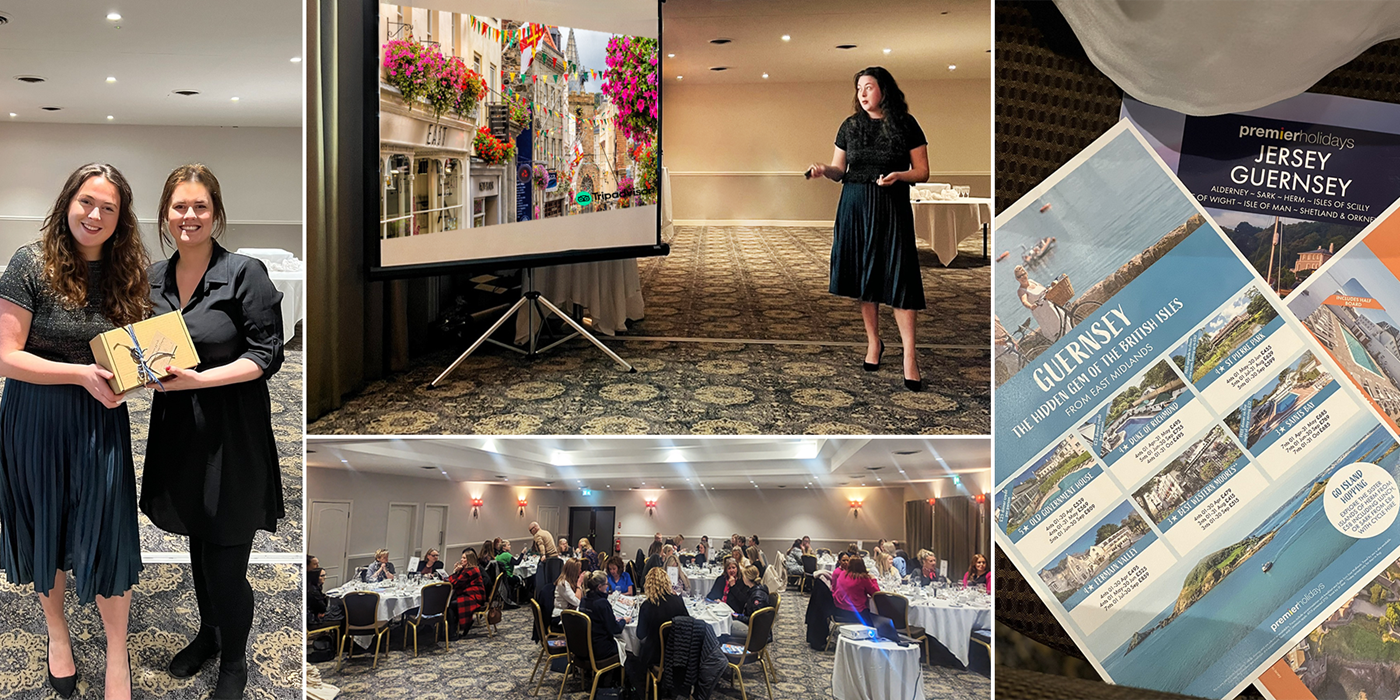 OTT – Online Travel Training
Our new course for 2023 on onlinetraveltraining.com has just launched, you can learn more about what makes Guernsey so special. Average time to complete the course is 20 minutes.
Our guidelines will steer you, our partners, when creating on-brand communications and ignite the curiosity of travellers everywhere to inspire them to visit our beautiful Islands.
Launch the course now: https://www.onlinetraveltraining.com/free-courses/providers/visit-guernsey-course
Travel Councillors
We also work closely with Travel Counsellors, independent travel agents based across the UK, to deliver remote training.
Marketing Manager, Chloë Steadman met with travel counsellor Paula, for a live remote session. Paula said 'The destination training evenings are massively beneficial. It lets my clients travel through their minds. Hearing from destination representatives directly has helped build confidence in travelling again and provides unique experiences for my clients. Bookings have been secured following these sessions and it's a great way to keep in touch'
Training & promotional materials
For those wanting a quick update or refresh on what the Islands of Guernsey offer, we have a travel trade training video available here Promotional Toolkit | Guernsey Trade Media . In this section of the website you will also find downloadable posters and videos for use in your own marketing.
Or if you would like to arrange in-person or online training please get in touch with chloe.steadman@gov.gg 
You may also like: