Good Morning Guernsey!
ITV presenter Andi Peters will be touring Guernsey this week, broadcasting live on Good Morning Britain and the Lorraine show, as part of their popular and aspirational travel competition segment.
22 June 2022
This is a fantastic visual showcase and is a great opportunity for the islands to be seen by millions of ITV viewers, who will be paying close attention as the segment offers a guaranteed prize of £300,000.
The VisitGuernsey team has co-ordinated and supported the trip with editorial direction, ground itineraries, accommodation, local ambassadors/guides/suppliers, transport, technical support and meals, ensuring the trip goes smoothly and captures the essence of #ThatIslandFeeling.
The film crew flew in late last night, ready for their first early morning shoot today from the balcony overlooking St Peter Port in the brand new Governors Suit at The OGH.
The feature highlights the niche audiences we are targeting in our strategy this year, such as sea swimming. So the first port of call had to be a trip to the recently renovated La Vallette bathing pools, to meet with Vive La Vallette Community Lead, Helen Bonner-Morgan and 'Sea Donkey' Adrian Sarchet to talk about how the bathing pools have been transformed, the benefits of wild swimming and Adrian's planned 24-hour fundraising sea swim in August.
In total there will be 10 live transmissions, over Wednesday and Thursday, into Good Morning Britain and Lorraine. There will also be additional VT(pre-recorded) filming planned for an additional five non-live transmissions.
Update 23 June 2022, clips from Good Morning Britain and Lorraine: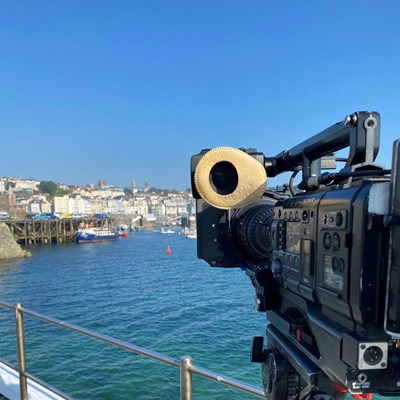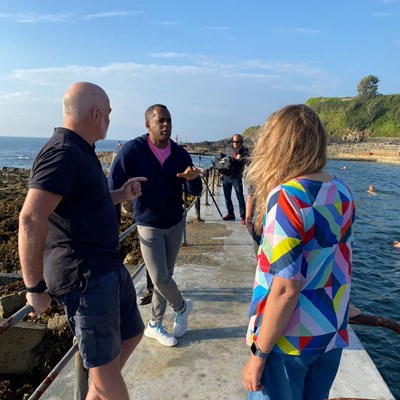 You may also like: