As we prepare to welcome cruise liner visitors back to the Islands for the summer season, work continues behind the scenes to not only retain the ships we have, but also reach out to new business.
This year, for the first time, we have secured a familiarisation visit in April for six cruise company representatives which we specifically targeted in 2022, identified as those we want to visit the islands more frequently or programme us for the first time. This visit is a direct result of our business development and we are delighted these companies are engaging so positively with us.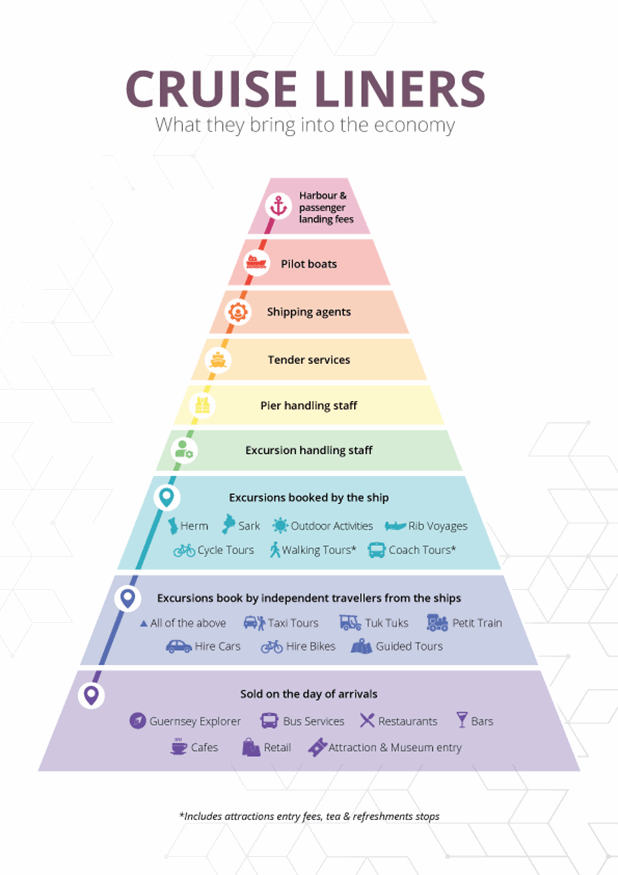 The following has been ongoing since the end of the 2022 season:
At the end of October, we contacted all cruise liners for feedback on their visits from 2022 followed by Teams meetings with cruise representatives.
In December 2022, we attended the CruiseBritain winter event, networking with cruise lines.
We have reached out to new cruise ships for plaque requests through handling agents, along with reaching out to cruise contacts asking if they would like hospitality desks.
Research remains ongoing, as we continue to reach out to new potential cruise companies, specifically in the niche and luxury markets.
Continued, co-ordinated communication directly with cruise contacts
Regular communication with UK-based Excursion agents.
Press releases to cruise trade on returning to cruising, new tours and award wins.
New content creation for cruise, including updating video content & general footage.
Advertising in Cruise Industry News which is the annual publication for trade with a contact directory and advertised in their spring magazine.
Had a month long banner on Cruise Industry news website
Upcoming targeted advertising:
Campaign with Cruise & Ferry review, a trade-focused, twice yearly magazine both printed and online. We will also feature in their annual publication called Cruise & Ferry Itinerary planning with both brand and content marketing. It is the only magazine in the whole industry dedicated to itinerary planners.
We remain members of CruiseBritain and have submitted news to the CruiseBritain early spring e-shot  which goes to their full contact list of cruise executives.
Events for 2023:
We will be attending three CruiseBritain events - Spring members meeting, Summer meeting and ship visit - Regal Princess, Portland and the Winter event.
Attending at Seatrade cruise Global, the world's largest annual cruise industry gathering of international cruise leaders. (Our attendance at Seatrade Miami in 2022 resulted in 19 follow up meetings with cruise lines, secured on the day).
New for 2023:
First ever, cruise familiarisation visit bringing over niche & luxury liners in April. Delegates from Ponant, Explora Journeys, Carnival UK, SeaDream and Saga will be attending.
Quarterly emailer to database of cruise contacts. (Scroll down to read the mailers)
Proactive social media plan – tagging in liners and welcoming them.
Creation of an itinerary for excursion agent visit
Dedicated meetings with cruise representatives in Southampton - TBC
The following activity remains always on:
- Communication with cruise excursion agents
- Communication with cruise contacts
- Follow up after meetings
- Follow up after calls
- Reviewing port guides
Ongoing Cruise press coverage
As part of VisitGuernsey's visiting journalist programme, cruise-based trips continue to generate great coverage:
Cruise Mailers
New for 2023, we send out a dedicated cruise-related mailer to our cruise database.  This mailer keeps them all up to date with the latest information.  You can read the mailers below:
New Cruise Stamps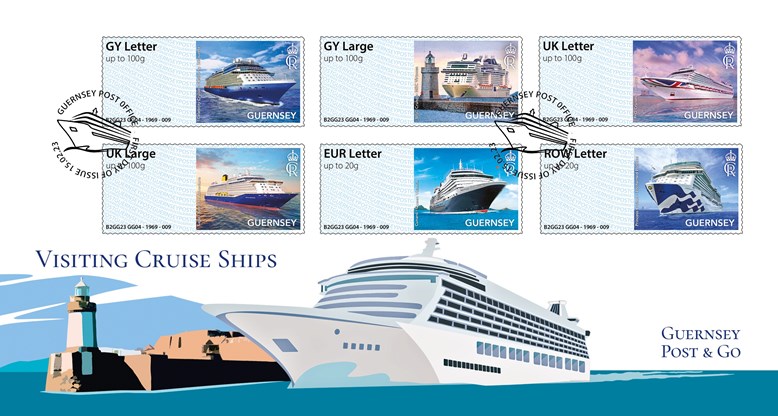 Guernsey Post have issued a series of six new cruise stamps.  We worked with Guernsey Post on obtaining permission from the cruise lines for their ships to be used in the illustrations and were very pleased when all six agreed.  These special stamps are now available from the Post and Go kiosks - one is available at the Guernsey Information Centre. 
We are sure that they will be popular with cruise ship visitors who arrive in Guernsey during 2023.